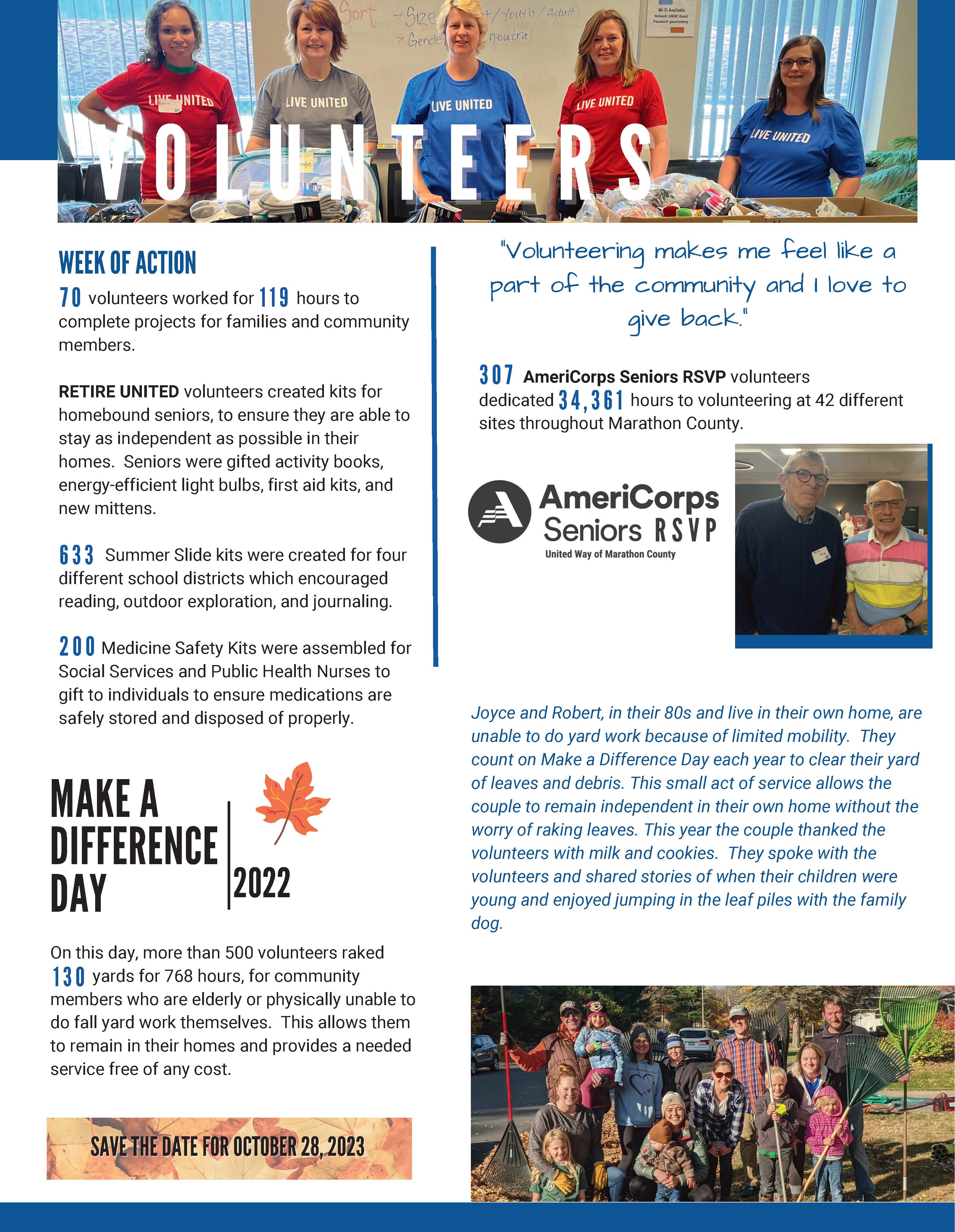 TOGETHER, WE CAN CHANGE THE WORLD
Whether you have an hour of time to give or are looking for a long-term volunteer commitment, and whether you are looking for a solo project or have a group ready to help, there are opportunities for you to get involved in the work United Way of Marathon County is doing to lift community members to financial stability.
Contact the office today at 715-848-2927 or contact Carly Hanney, Director of Community Engagement at channey@unitedwaymc.org for questions about any of the upcoming opportunities listed below.

Click here for a printable calendar.
Farm to Family Produce – Tuesday Box Packing, June - September: Two local farms based out of Athens, WI provide fresh produce to be boxed and distributed to agencies in Marathon County. Your team will help pack the fresh, organic produce into boxes that can more easily be distributed. Register now!
Farm to Family Produce – Saturday Farmers' Market, June - September: United Way staff will pair your team with a member of the Marathon County Hunger Coalition to set up a table at the Wausau Farmers' Market on Saturdays to collect leftover and donated produce. The food collected is then distributed to local food pantries, ensuring community members have access to fresh, healthy options. Register now!
Week of Action - June 20-22: Help transform our Community Closet space to allow for in-person shopping for the whole family. Roll up your sleeves to clean, sort, organize and more! Register now!
Farm Harvest Days: Deepen your understanding of local food systems and discover firsthand how family farms play a critical role in fighting food insecurity as partners with the Marathon County Hunger Coalition, an initiative of United Way of Marathon County. Participants may be involved in weeding, harvesting, and cleaning vegetables – come prepared to work, but also enjoy time spent with a team of people committed to fighting hunger in our community.
     Monday, September 4 at Cattail Organics: Register Here!
     Wednesday, September 20 at Red Door Family Farm: Register Here!
     Wednesday, October 18 at Red Door Family Farm: Register Here!
Lunch, Learn and Do - September 19: Period Poverty - Despite being a basic need, menstrual hygiene products are not covered by government assistance programs, and are rarely provided at no cost in schools. Find out how this issue affects people in our community, and take part in a project that will help make these products accessible to local students! More information coming soon.
Collective Impact Bus Tour: Take a bus tour of United Way's community partners and fund programs. Tour will culminate in a volunteer project. Registration details to come soon!
Make a Difference Day - October 28: Make a difference in the lives of community members by raking yards for those who are elderly or physically unable to do this work themselves, allowing them to live with greater independence in their homes. Registration will open later this year!
Turkey Trot - November 23: Runners and walkers spend their Thanksgiving morning in a race that raises thousands for the Marathon County Hunger Coalition. Volunteer teams can help as course marshals, setting up and restocking refreshment areas, or tearing down post-race so everyone can get to their Thanksgiving festivities. 

Community Closets - United Way of Marathon County operates Community Closets that provide clothing to individuals and families in need to alleviate that financial burden. There are two regular volunteer opportunities (minimum of 2 shifts per month):
Guest Experience Volunteer: Ensure that guests receive friendly, generous service and can shop without judgment. Contact Carly for more information!
Donation Processing Volunteer: Work behind the scenes, ensuring that the items coming into the Community Closet are high quality and in keeping with our inventory management practices. Contact Carly for more information!
Donation Drives: Collect high-need items for local families and individuals. These could include things like hygiene products, cleaning products, food, winter clothing, etc. United Way will either distribute these items through our community closets or direct them to local agencies supporting community needs.
Kit Building: Spend an hour or two putting together kits that will support families in need across Marathon County:
Calm Kits
Community Resource Bags
Food Kits (Snack or Meal)
Laundry Kits
Menstrual Hygiene Kits
Personal Care Kits
Welcome Home Baskets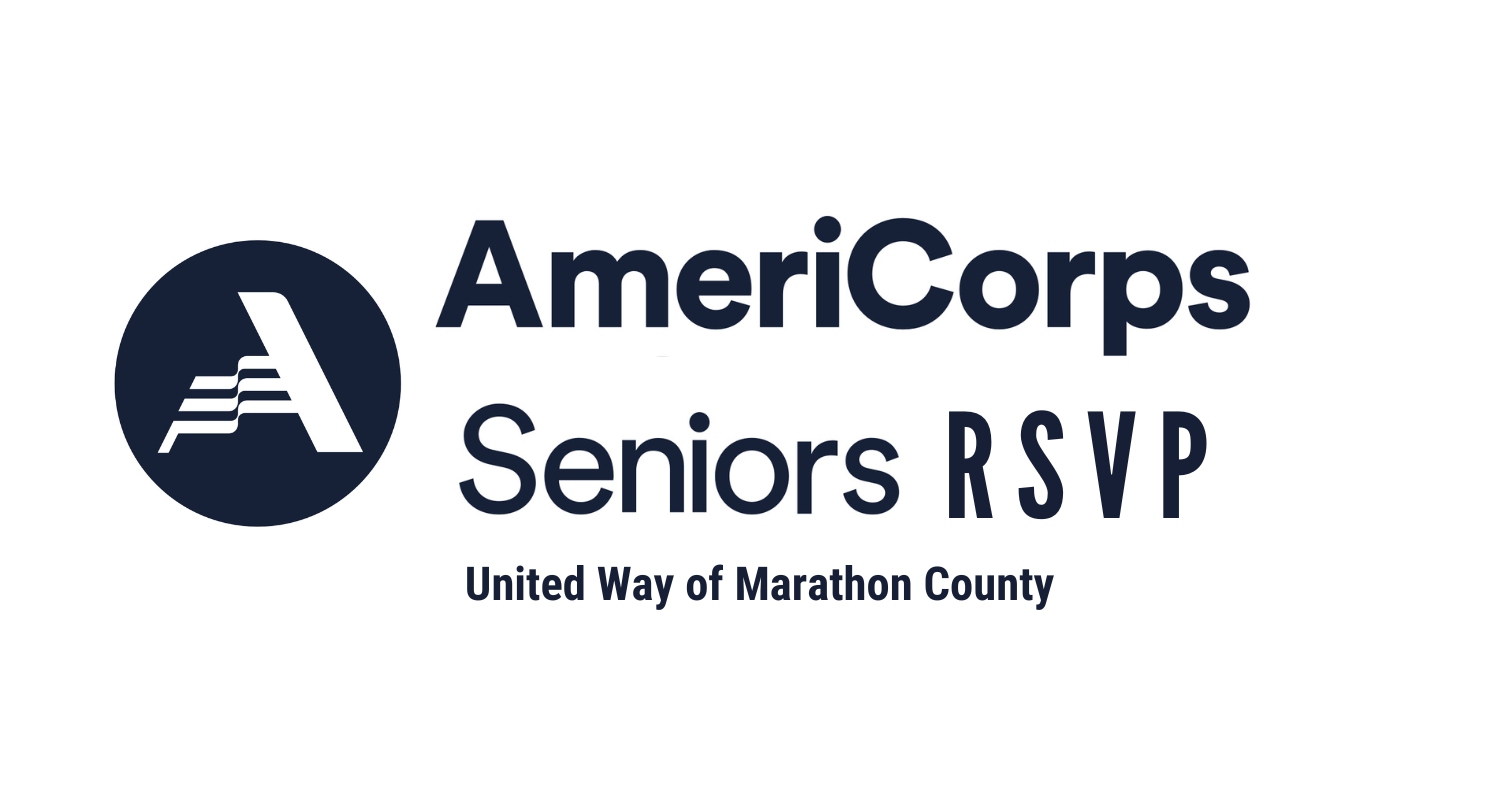 Other Volunteer Opportunities Around the Community